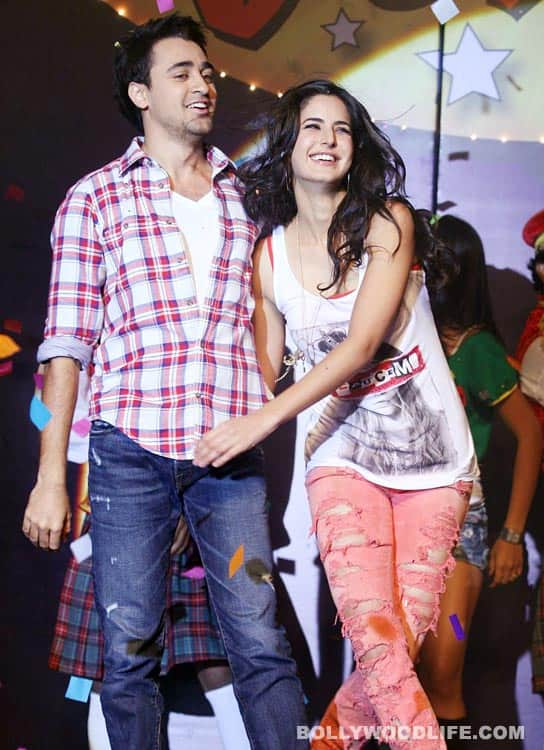 When we reached YRF studios for an interview with the young cast of Mere Brother Ki Dulhan, we found Katrina sitting on the wooden floor of YRF's rehearsal hall, patiently waiting for Imran to join her. Imran was a good 20 minutes late and Kat welcomed him with a punch on his arm. The camaraderie was more than visible. Well, they are young, not romantically involved and get along like a house on fire. But it wasn't all hunky dory when they first met. Or so they insisted…
"I was familiar with this kind of comedy genre. I had done Ajab Prem Ki Ghajab Kahani and I had become comfortable with it because of Raj Kumar Santoshi. But Imran was new to it. Also, he didn't know me and I didn't know him. There was a little bit of friction. But once we got to know each other and found our understanding, it really helped us in terms of the characters. There's a certain kind of chemistry and approach now. It was a nice first film for us to do together," says Katrina.

Ms Kaif has worked with a lot of senior actors during the initial years of her career, including Akshay Kumar and Salman Khan, and doing a film with Imran, who is her age, was a fun experience. "You have to agree – it's different working with the senior actors. It's not a difference of two to five years, it's a difference of two and 20 years! Seniors have been in this profession for many years; they have a lot of things to handle, as they are big stars and they have too many things on their mind," says Kat. We hear that the outspoken and spunky gal managed to kick Imran quite a few times in Mere Brother Ki Dulhan, but in real life we found that it is Imran who does the kicking! "With someone like Imran on the sets, it was a little different than with the seniors. He would come on the sets and kick me. We'd start fighting or something. It was a lot of bachpana, but it was fun, complete nonsense. We wouldn't do anything constructive with our time!"

Imran walks in just as Katrina finishes answering the question. Kat gets up to greet him and the Khan boy kicks her foot. "Did you see that," Kat yells. "You saw that, right? He just kicked me. Didn't I tell you?" she laughs. The Bollywood babe seems to have finally found her comfort zone in the industry, after all these years. The reserved girl has been transformed into a much more expressive child-woman. Imran agrees. "I have developed tremendous respect for Katrina. I think her work in this film is head and shoulders above anything she has done so far. This is for her detractors and anyone who says that she's just a pretty face and not really a good actor," Imran says. "I genuinely believe that anyone who feels that way will change their tune after watching this film. I have seen most of her films and I think this is her best. I mean, in the coming years I'm sure she'll do a lot of good work."

It's not uncommon for stars to rave about each other before the release of their film. But wethinks that it's always fun to see this kind of easy chemistry. We wonder, though, what Ranbir – reportedly romantically involved with Katrina at one stage, has to say about all this mutual admiration!