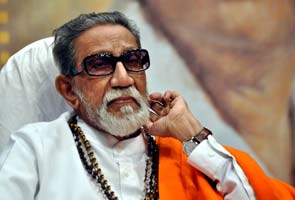 Mumbai: Shiv Sena chief Bal Thackeray died in Mumbai at 3:33pm today. He was 86.

His immediate family including son and successor Uddhav, nephew Raj Thackeray and the top leadership of the Shiv Sena were with him at his Bandra residence, Matoshree, in his last moments.

The death was announced in a brief statement by doctors from Lilavati Hospital who had been treating him.
Mr Thackeray's body will be taken in a procession to Shiv Sena Bhavan, the party headquarters situated at Shivaji Park, where it will be kept in state for public viewing from 7 am tomorrow. The Sena supremo used to address massive rallies at Shivaji Park every year.

Massive crowds of Shiv Sena supporters gathered outside the Thackeray residence within minutes of the announcement. A large contingent of police, State Reserve Police and Rapid Action Force personnel have been deployed to keep the crowds under control. Thousands of personnel from the Mumbai Police have also been deployed across the city, since there is apprehension of some violence. Sena leader Rahul Narvekar has appealed for calm to all party supporters. Earlier too, Uddhav Thackeray had told Shiv Sainiks that "no damage should come to the name of Matoshree".

So far Mumbai is calm, though shops and other establishments have begun to shut down in several areas, including the Sena stronghold of Dadar.

Mr Thackeray is survived by sons Jaidev and Uddhav, who is the executive president of the Shiv Sena, which Mr Thackeray founded in 1966.

Hundreds of Shiv Sena supporters who had gathered outside Mr Thackeray's home broke down and tried to console each other. Thousands more are expected to reach Matoshree to express their grief. Security, already present in the area around Matoshree as well as Sena Bhavan, has been stepped up again.

Mr Thackeray had been unwell since July this year when he was admitted to Mumbai's Lilavati Hospital for breathlessness and constipation. He was released after a week in hospital, and was being nursed at his Bandra residence, Matoshree. The Sena chief was under constant medical supervision, with a team of doctors stationed at his home.

Mr Thackeray's health had dipped to very critical on Monday, but he made a recovery of sorts. Thousands of Shiv Sainiks had gathered outside Matoshree along with media crews. On Wednesday night at 2 am, Mr Thackeray's son Uddhav and grandson Aditya told party workers, "All efforts are on. Please pray."

Hundreds of policemen and paramilitary Rapid Action Force personnel had been called in on Wednesday night, with barricades to restrict movement around the area. Party workers began gathering at the Thackeray residence as news spread that the Shiv Sena chief's condition had deteriorated. Sources said top police officials of the city had been informed of Mr Thackeray's death in advance to give them time to make adequate security arrangements before a public announcement was made.

Many VIPs are expected to visit the Thackeray home to pay their respects. Actors Amitabh Bachchan, along with son Abhishek, and Sanjay Dutt had paid a visit to Matoshree late on Wednesday night.